How can we start a new narrative in design?
Design Academy Eindhoven presents itself every year in Milan during Salone Del Mobile, the world famous design fair. In 2014 I launched the new Food Non Food department at Design Academy. In 2015 I was invited to curate the Salone exhibition and present Food Non Food. Together with all the students and teachers the whole department went to Milan and worked and lived in the exhibition. As curator of the exhibition I showed the heritage of food and design of the Design Academy dating back to the seventies showing how food and design already emerged very early and developed from designing stoves to conceptual eating rituals. As Food Non Food is about food from a very literal material to the most ephemeral political angle, the ultimate non food would be shit. Without food there is no shit and without shit (manure) there is no food.
Thomas Widdershoven, Director at the time: 'Initially I was nervous to come to Milan with a topic like shit, but the more I thought, the more I realised it was absolutely necessary. Yes the title is explosive, but it is also entirely appropriate. The exhibition has been designed to present the breadth and attack of the Design Academy Eindhoven's new Food Non Food department.
Shit from this vantage point is the connector – it links food to non food and sets the tone for the department which at least so far has little to do with cooking and everything to do with systems, rituals, and materials. We launched this department because food and all its myriad associations have always been a part of the academy's DNA. Jason Page's 2014 graduation project, which digitalised our archive making complete themes easily accessible, beautifully communicates this. His timeline of food related projects forms the centrepiece of the exhibition, which covers everything from eating and excreting to recycling and protesting. 'Eat Shit' is a definition of the human condition –you live, you eat, you shit so shit – as a result – is a valuable resource. It sits at the beginning and the end of the food chain. But to hurl the words 'Eat Shit' at an opponent is also an expression of anger, an insult flung in protest at inequality, unfairness and corruption.'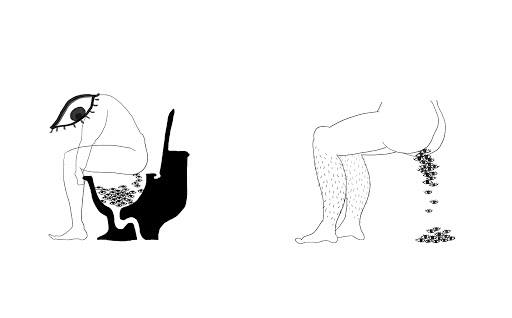 It is a pleasure to work with Marije Vogelzang.  She experimented with an unconventional mix of presenting and teaching as she brought the whole first class to work in the exhibition. 'Eat shit' was the talk of the town, nominated best presentation of the year.

Thomas Widdershoven

former director of Design Academy Eindhoven
I can't think of anything that touches us like food. It is the soul of life, a single unifier. When I first graduated I did not want to become known as the food girl, but I was struck by the public's reaction to my first projects. It made me think much more about the material's potency and potential. Food is very emotional – it has the power to make people feel happy. I always knew that, but the more complicated question was how a food designer couldmake the sort of impact I wanted to make. My answer is that one must always have a stand-point that is bigger than the food on a plate. So I want 'Eat Shit' to show how there is a big difference between food design and eating design.
I want to reveal the full gamut of what my new Food Non Food course at the Design Academy Eindhoven covers. It is the first undergraduate food design course in the world in art education and for the department I selected a team of experts with different strengths so students come at the subject from as broad a perspective as possible.
EAT SHIT was created for
Design Academy Eindhoven
commissioned by Thomas Widdershoven
supported by
The 2nd year students of Food non Food
And their teachers
Special thanks to
Robert Adolfsson
coordinator Food Non Food
exhibiting designers
a.o
Manon van Hoeckel, Pim van Baarsen, Olivier van Herpt,
Food Curators and many others.